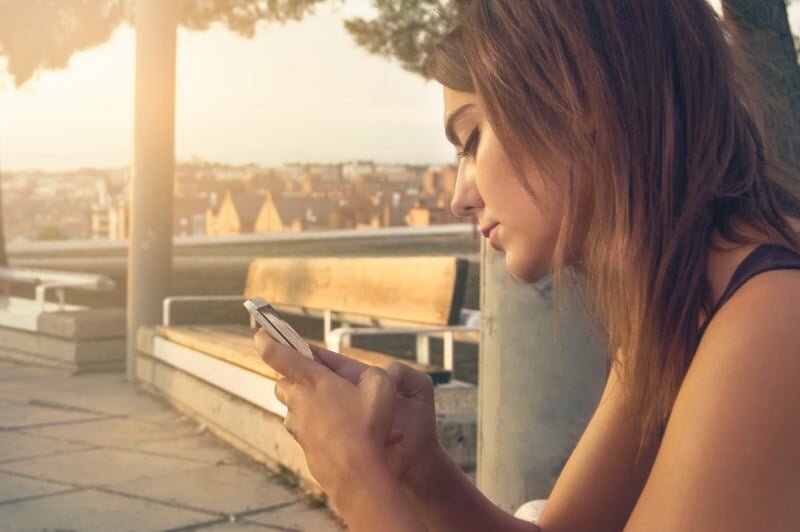 I was reading through a dating forum and found this very interesting story about a first date a woman had with a guy she met through an online dating site.
If you have ever gone out with guy but he didn't call back or get back to you for a second date then this story will show you HIS side of dating, his real interest in you, AND what you should NEVER do if you don't want him to disappear so quickly.
They started chatting online and he quickly mentions how he doesn't get on there much (the dating site) so they should exchange numbers.
She agreed and they both texted each other a few time before he proposed, "We should go out sometime very soon." She thought it was a great idea and they set up a typical Friday night date.
I'm not sure what happened on the date because she didn't mention it but at the end of the night they kissed in the Taxi in front of his place and he gave her a choice, "Call it a night or come up to his place to watch a movie".
She chose to go up to his place and very quickly they were making out in his apartment. She's not into having sex on the first date, calls it an evening, and heads home.
He texts her on the way home telling her to be safe. She texts him back. Then he mentions to stop texting because he doesn't want her to get hurt but he'll contact her soon.
A few days pass and since she hasn't heard anything from him decides to text him, "thanking him for a good night out." He gets back to her after a few hours with something like you're welcome and how he can not wait to do it again.
A few more days pass and she has not heard back from him and so she checks out his profile and notices he's been on the dating site as she casually and angrily mentions that he told her "he doesn't get on there that much".
She wrote that she expects him to be seeing other women... "He's a good-looking guy." but she didn't understand why he would say he isn't on there a lot when to her, he so obviously did frequent his profile.
Based on that and her experience with men she concludes:
He hasn't called her for a second date because he thought he was going to get lucky that night and she didn't let it happen AND how he had probably moved on to an easier girl.
BUT she's still not convinced so she reasons it all out in her head:
WHY would he want to make sure she got home okay AND why would he mention he'd like to see her again?
Her last post was one of anger, disgust, and frustration as she gives up on him entirely claiming she was played and he was only looking for sex - keeping in mind all this happened within a WEEK:
"I definitely agree that I screwed things up by going up to his place. I was naive and didn't want the night to end and didn't bother thinking what my actions were saying. Dannnnng. I know in my gut that since he hasn't called, he's just not that into me.

But sometimes a girl just needs to hear it said out loud by someone else. No worries! I won't be contacting him in any form.

Sucks that I'll never know what would've happened had I gone home that night immediately after our date instead. Guess this guy was just meant to be a lesson. Lesson learned! Thanks for the honesty."

No call 48 hours after first date...not interested?!

(Forum link has since been deleted and is not accessible any more.)
Now that you know the whole story... here are my thoughts and I have a lot of them so be patient because you're going to learn a valuable lesson about men and much more.
I'll start with him...
He was a VERY smart "online" dater - based on what I read it's a safe assumption that he's a type one guy which means he's good with women and probably dating too.
He played the online interaction perfectly. He quickly got her phone number quickly AND he didn't waste any time sending her a few messages and setting up the first date.
(Type twos don't work this way at all - they typically take forever, let her lead, talk online for way too long, and make the dating process much more difficult than it needs to be.)
In my free book "Understanding Men Made Simple - There Are Only Two Types Of Guys" I do cover how just because he's a type one doesn't mean he's a bad guy or a player - just that being good with women gives him the option AND the opportunity to do so...
Which means (based on what we know from the story) it's impossible to for us to conclude IF she was being played or used as a one-night-stand or a quick lay BUT I will say this:
He moved from one step to the next AND got her to go back to his place which DOES tell me that sex was clearly on his mind. As if you need me to tell you that because you're certainly smart enough to see that coming a mile away.
BUT just because a guy wants to get laid on the first date does NOT make him a player. It's not good, that's for sure, especially if you're looking for something long-term with a guy, however... here's a lesson in dating men:
Assuming you're being played because a guy doesn't contact you back after a few days past the first date is typically a WRONG assumption that will cause you to push a way a lot of good men.
Moving on to her side of the date, what really went wrong, and the mistakes she made so you can avoid making them yourself:
IF you don't want sex to be a part of the early dating process - do NOT go back to his place after the first date no matter how much of a good time you're having with him.
Hey... it happens, that I truly understand BUT that's actually NOT the real issue here as you'll soon see for yourself through her.
She IMMEDIATELY went back to that moment, HER decision, as to why he didn't contact her back quickly... because he didn't get it from her. She believed he wasn't that into her and was only looking for sex AND by going up to his place and not putting out - she pushed him away and made him lose interest.
In reality he didn't lose any interest at all. Obviously he was totally into her on one way or another.
Whether it was for sex or not remains to be seen AND she'll never know because she made a few more classic dating mistakes.
ONE: Instead of being patient and waiting for her to contact him in a reasonable time - she jumped ahead and came up with an excuse to message him first.
She didn't message him because she wanted to, she texted him to test for his response and although that's fine with a type two guy - most type ones will see right through it and assume you're needy, a little desperate, or that you're playing a game in the hopes of revealing his hand quicker than it needs to be.
She texted, "Oh yeah I forgot to thank you for the date..." which leads to...
Number TWO: NEVER thank a man for a date and NEVER use it as an excuse to contact a guy so quickly after a first date just to see if he likes you or is interested or not.
IF a man is truly interested in you - he WILL call or contact you again. THAT is his sign of interest. When you poke or prod him hoping you'll learn the truth - he'll only think you're being overbearing, nosy, and that your dating life is suddenly revolving around a guy you just met.
And please - don't thank him for the date - if you must say anything at all - "You had a good time and you'd be happy to do it again when you're BOTH free for the second date."
Number THREE: Less than a week had passed before she became impatient with him and immediately went online to "check his profile" to literally spy on him because she wanted "closure?" already.
When you meet a guy online you must EXPECT he's there for a reason - to date women and he's not there just to date you exclusively.
YOU must do the same - dating one man at a time only causes this problem to happen. You put all your time and energy and feelings into one guy at a time and if it doesn't work out (in her case) within a week you make yourself a total wreck AND you start doing things which will push ANY guy away OR have him stick around just long enough to sleep with you.
Circular Dating Works! TRY IT - and ALL problems like this go away instantly.
(See credits below for more information below on circular dating.)
If you want a guy who will date you exclusively (non-committal in the beginning of course) - then that is your choice and it's okay - BUT you must make that clear from the beginning AND you must also do it in a way which is not demanding.
Number FOUR: She went looking for closure - a definitive answer to whether he was interested in her or not AND if he was just looking for sex.
Hey - I understand what it feels like to leave something hanging and having a bunch of loose ends without any real answers BUT...
When it comes to dating - there will be a lot of loose-ends if you're putting yourself out there.
Many things will go left unsaid. Some men will never call. MOST men will NEVER tell you what they don't like about you. To be honest - it's not their responsibility to prepare you for next date with another guy.
If you so choose to let the men you see know why you don't want to date them anymore - that's your choice - but you can not expect others to work that same way or play by YOUR rules.
When you find yourself always searching for the why or what happened you will ACT differently around each and every next date trying to avoid what went wrong last time and if you don't know what went wrong - you will take yourself out of an attractive frame and guys will sense it AND you'll find it very difficult to just be yourself and have fun.
As one great advice man wrote:
1… Men Don't Make Sense.

All those frustrating things that men do that don't make any sense to you as a woman will NEVER MAKE SENSE.

Stop trying to make sense of them for yourself.

Trying to make sense of a man in your own terms is entirely counterproductive and gets little or no results other than you becoming increasingly frustrated.

There's a better way.

2… You Can't Figure Everything Out.

Have you ever REALLY hit it off with a guy but after a few weeks or months, even though things seemed great, the man pulled away and starting acting distant and cold?

Most men, at one time or another, do things like this that are ridiculous and impossible to figure out.

So EXPECT to NOT UNDERSTAND everything a man does.

If you can become more comfortable with the idea of not knowing everything about WHY a man does what he does, then you'll feel a strange sense of calm relaxation – along with an increase in your own self-confidence.

6 Ways On How To Use The Magic Of Intuition & Get To Know The Real Him
With all that said and "behind" us...
Was He Interested In Her or Not?
It's not 100% that just because a man does not contact you as quickly as you'd like is not a guarantee he's not interested.
Quality men (and I use that term loosely) are NOT going to come out and say it early on but the signs are always there and in her case they were:
He kissed her.
He invited her back to his place.
He texted her after she left.
He said he wanted to do it again.
All signs pointing to his INTEREST and ATTRACTION towards her.
Just because a man doesn't act all needy and overbearing right after the first date is NOT a sign of no interest - it's typically a sign of who he is and not how he feels about you.
If he doesn't contact you after a reasonable amount of time then yes, it could mean that he decided he wasn't interested in pursuing things further with you and the exact reason will probably never be shared with you.
The absolute best way to tell if a man is truly interested in you:
Tease him a little, have fun with him, offer a little and have him "work" if he wants more... in a fun flirty and attractive way of course.
Be a REAL challenge.
Be HIS challenge.
And those high quality men will show their interest by paying very close attention to you in every sense of the word.
Do things a certain way (attractive communication) and let them work for you AND if a guy is responding because of that - it's practically a guarantee that he's interested in you.
Do things the wrong way (which I point out in my free book below) and the only challenge or interest you'll engage him in will keep him around just long enough until the challenge is met.
In the case above - she did NOT give up the challenge by going up to his place at the end of the night - if she has slept with him that night - THEN YES - challenge gone because as I wrote above - IF you want to date a man long-term and you're looking for a possible and eventual real commitment, do NOT sleep with him too early.
You can read more about that here:
Will He Stick Around After You Get Intimate? Not If You Make These Common Mistakes
The inevitable Confused Dating Is He Interested conclusion...
I feel for this woman - I really DO.
I understand from years of experience and through all the advice I've given along the way how HARD it is to stop overthinking and where it often leads a man or woman when it happens.
Sure - this guy "could've" been only out for a quick lay BUT that does not mean he's going to settle with one... for you or her.
She didn't "put out" and that's a GOOD thing when you're looking for something more.
BUT she still made a lot of mistakes which will stop her from ever revealing the truth about this guy and you never know - all things considered (maybe) he was looking for something more too and in his mind - he might believe sex is the way to a woman's heart too.
Aside from all that - the FACTS remain:
He was clearly attracted to her.
He was clearly interested in her one way or another.
His intentions are unknown but that's to be expected unless you learn them from the first interactions you have with a guy.
NOTICE she didn't mention what they talked about on the date even though THAT information was the most beneficial and crucial information to learn what was on his mind.
So - if you can relate to any and all of this:
GIVE a guy some time before you contact him.
This all happened in less than a week and that's way too quick to decide one way or another compatibility, interest, intention, emotional attraction and connection.
Do NOT jump the gun. Don't leap into the abyss hoping or prodding for information.
ENJOY the moments.
REVEL in the unknown for just a while and everything will unwind in its own way.
ASSUME if a guy is WORTH giving a chance and an opportunity to date YOU - that means he's probably dating other women too (especially if you meet from an online dating site). YOU saw something in him, other women will too.
AND he saw something in you worth dating too - which means you have an equal or even BETTER chance.
The LAST thing you want in your life is taking ANY of your valuable "you" time out of your busy, fun, happy schedule to check out his profile to see if he's still online looking because I GUARANTEE he is. Don't question it - it WILL happen just the same as you will look around too.
THAT is the point of dating...
To search...
To seek..
To explore...
To Enjoy...
UNTIL that perfect MATCH comes your way.
I'm going to leave you with a few of the best advice articles I've found to help you get through the dating process in a way which keeps men INTERESTED in you, STOPS you from overthinking about it all, AND assures you ARE his greatest challenge.
They were written by Evan Marc Katz. Please enjoy and learn something from them: