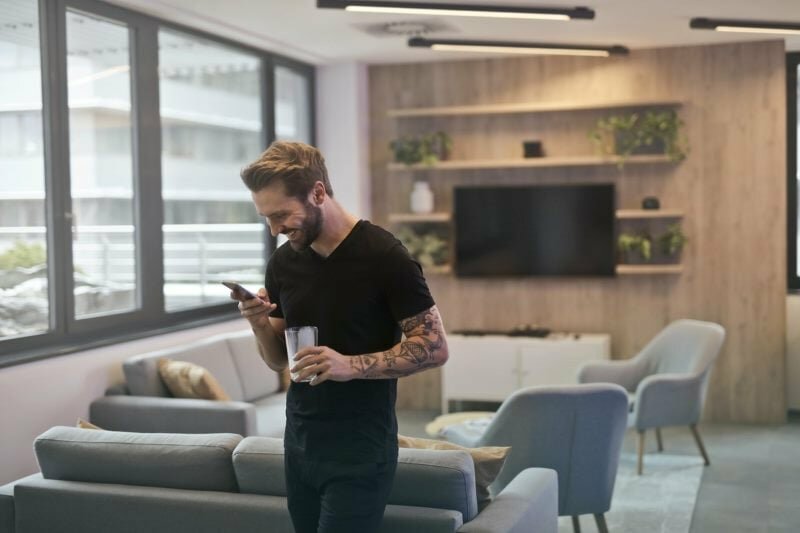 When this question came across I couldn't believe it because it seemed so obvious to me.
Maybe it's because I'm a guy and turning on a guy with a text is very simple...
Pictures.
Send a cute picture of yourself. 😉
No... you don't have to be naked.
No... they don't have to be perfect but most (normal) guys love it, like it, get turned on by them and I'm not going to say it will guarantee a response BUT at least you will know quickly if he's attracted to you.
Let's be honest here.
Words on a phone are NOT the strongest skill set of most men.
In fact, there are actually programs or products out there, which I've sold, that teach men HOW to text women because they just don't seem to get it... (I probably don't have to tell you that.)
They text too much blowing up your phone.
They text too little or don't respond leaving you wondering what the heck is going on.
They text you random shit you couldn't care less about.
And when it comes to sexting... Well let's just say most guys are clueless on how to turn on a woman with just a few words.
Now I know some of you have done it, the whole sexting thing and I'm sure you "put up" with his strange words or cute way he doesn't get it, BUT that's because you liked him, right?
You wouldn't dare tell him his sexting skills are absolutely shameful.
Okay, I hear you... pictures? Are you serious?
Yes I AM but if you insist on some quick texts to try out for yourself, let me see what I can come up with for you that is IF you promise to let me know how they worked or did not work for you.
"Shower time. 😉 I'm biting my lip right now."
"Don't you have something better you should be DOING right now."
"You know what gets me excited... you'll never guess you fool! :p"
"Ahem ahem, if you could only see what I'm looking at right now. ;)"
"Brrrr it's cold here. Reminds me of when... haha! never mind. :p"
"Just dropped my phone, might have missed your text while bending over to pick it up."
"Something tells me I won't get much sleep tonight, thanks a lot.. jerk. ;)"
"This bed is sooo comfy but it's much too warm in here. Guess you know what that means. ;)"
Yes.
Use lots of winks and tongue to tease him and to make sure you're getting the sexual point across, otherwise it could easily go over his head.
There IS a (texting) formula here and I'm going to show you how to come up with your own.
When you're excited, that normally gets guys excited too IF again the attraction is already there.
Use that to your advantage.
If you like it when a guy kisses and bites your neck seductively... mention how your hair is driving you crazy because it keeps rubbing up against your warm neck and you're just going to put it up.
If you like when a guy rubs the inner part of your thigh... mention how good his hands would feel right this minute now on them.
The one thing which always works for lots of men is:
Hint how you're secretly excited and blame it on him.
If all else fails, THEN you can send a picture. 🙂
Seriously...
The magic formula for turning on a guy in a text message becomes:
Think of something that he does that turns you on OR you know it excites you and then text it in a fun proactive way.
It doesn't have to be exactly that - mix it up with a little something to "remind" him of the things he does which turns you on OR what you already know he likes when you do it.
Add to what you're doing is thinking about doing by blaming it on him and you'll hook him in quickly and easily.
Make sure you add lots of emoji so he definitely won't miss the point.
Practice it a little you'll be a master at turning him on with just your phone.
I understand this might be a little beyond romance and all but I'm assuming you're already there and you just want a little something to get him going and see where he takes.
In that case this type of texting works great because it communicates a lot.
Here are few more teasing texts you can use:
"Grrrrr 😉 " (A  simple but effective one.)
"Do me a favor please... my phone is on vibrate. ;)"
"Are you busy? Wink wink ;P"
"If touching yourself was a crime... Nope, not going there just yet punk! :p"
"Being naked feels so free! 🙂 Time to stretch a little."
"Do you know what really turns me on...?"
Now I'm sure you can some up with plenty of original ones on your own because you know yourself better than I do BUT....
If you want a ton of texting examples them I have a few quick easy solutions for you and he doesn't have to know where you got them - as if I'm going to tell him anyways.
If you're in a relationship that seems to be losing a little chemistry or sex appeal or it's missing some romance - and you want to spice it up a little and ENCOURAGE him to be more romantic towards you...
You must do these three things:.
First you need to REMIND HIM what a valuable prize you are. . . and bait him into hunting and chasing you again... in other words TEASE HIM like I've already shown you today.
Second you need to give him permission to be a guy. . . (Very important because guys can get a little locked up or afraid of their sexual desires.)
And third you need to make him feel SAFE!
Safe in the idea that being a romantic guy is not a big deal, it doesn't make him any less than a man, no expectations to be great at it.
He needs to feel like that just by TRYING to be romantic IS romantic to you. A guy might be scared of trying it if he thinks he sucks at it and it won't work on you.
AND... other guys won't have to know he's doing it.
He has to know his buddies or guys he works with won't know he's that "type" of guy so they're less likely to bust his ass about it;  which will certainly stop him from trying or continuing on it.
Hey - sorry - I didn't make the "male" ego - but you can certainly work around it OR with it.
That's for sure.
Alright I'm a pretty smart guy and have lots of "sexting" experiences with women, all of which you will NOT be hearing about now that I'm a more than happily married.
I gave you my texting formula - use it - it WORKS!
BUT if you're stuck - I hear you.
I talk to a lot of men and women everyday about this stuff and their objection or reason for not following through with my formula is a very common excuse:
"I'm not that creative. You write all the time Pete. This stuff comes easy to you. My imagination is nowhere close to yours."
Thank you. Really - thank you.
So...
Keep my texting formula in mind.
Understand the steps needed to help turn any guy on and how to free him up to be more romantic with you.
And then just get it all done for you so you have a huge list to pull from whenever you need it AND a clever way of getting exactly what you want from him in your relationship - romance and sex included.
Here are my many "best selling" suggestions and lots of way to check them out on your own:
Language of Desire- Dirty Words that Make Him Yours - Read only page. Written by Felicity Keith. The name says it all...
You also get, "Silent Seduction", "The Good Girl's Guide to Texting Dirty", and "Unstoppable Confidence".
For those who prefer to watch - here's the Video: How to Make a Man Sexually Obsessed with You Without Even Touching Him.
The next one does contain some "turn him on texting" stuff but centers mainly around getting a guy to be more romantic with you.
Text The Romance Back 2.0 - How To Turn Any Guy Into A Prince Charming With Just Your Phone .
It's a video link explaining it all and it's starts with a guy you may not know but I do, Michael Fiore as he appears on The Rachael Ray Show. The beginning is pretty fun.
Keep in mind - it is designed for women already in a relationship but I've been assured by him that you can use the examples or everything you're going to learn on a guy you're just dating to - if you want to amp up his attraction for you.
Here's a sign up page (email required) for those who want a free report:
3 Magic Texts Special Report Sign Up ONLY Page
You'll get the report and then a series of emails about texting and romance and all that good stuff.
It IS what it is and although I hate using those words - IF you want a texting program to teach you HOW to "text the romance back" or encourage the guy you're dating to be more attracted to you then this is the ONLY one I've found that fits the bill AND is affordable too.
If you're looking for another angle then go through my post He Ignored Your Text – Should You Text Him Again? and you'll find great advice plus something which will help you attract a guy with texting. It's designed specifically for single women.
In conclusion...
Turning on a guy through texting is quite simple when you use my formula above. You can quickly come up with lots of sexually exciting things to send him:
Think of something that he does that turns you on OR you know it excites you and then text it in a fun teasing kind of way.
Remind him of something he does which he knew turns you on OR what you already know he likes when you do it.
You can heighten his excitement by texting him something you're doing or thinking about doing and BLAME it on him.
Use lots of Emojis to get the point across to him more effectively.
I personally became a "master sexter" using that same formula so I know it's going to work for you.
If you feel you're struggling with the imagination part of coming up with the right sexual words then pick up one of my suggestions above and it will all be "laid" out for you.
One more thing: WARNING... you MUST know the type of guy you're dealing with IF you want to make a bigger impact on him. 
Type ones will take it one way and if he's not a "good" type one you could expose yourself to lots of sexual problems with him. If he is one of the good ones it's okay but I would NOT get too sexual with this type too quickly. Let HIM take the lead there,
Types twos are a little more positively and sexual responsive in this area so be careful, if you're not into him that much just yet, using this formula or any packaged texts to send him could get him more sexually obsessed with you. Which might seem good but there has to be a balance IF you want something more serious with him.
With that in mind - please make sure you sign up below to my free newsletter when you're done and read my ebook on the differences between the two types of men.