Inside-Mind-Man
Follow me on Twitter here.
Sign up for your free copy of my 80 page book.
"The Silent Man – Why men go silent, ignore you, or fail to share their feelings."
The 6 main reasons men will go silent and ignore you. Once you know these you'll never have to ask why is he not talking to you ever again.
49 personal situations that reveal a guy's point of view about why he has stopped contacting you.
You'll found out if it's HIM or YOU so you'll know exactly what to do next to open him up.
Change how you see men, how they see you, & how your communication differences might be stopping you from connecting to men.
*Click on the picture below to read some of it online. The rest is ONLY available to subscribers of the why do guys newsletter.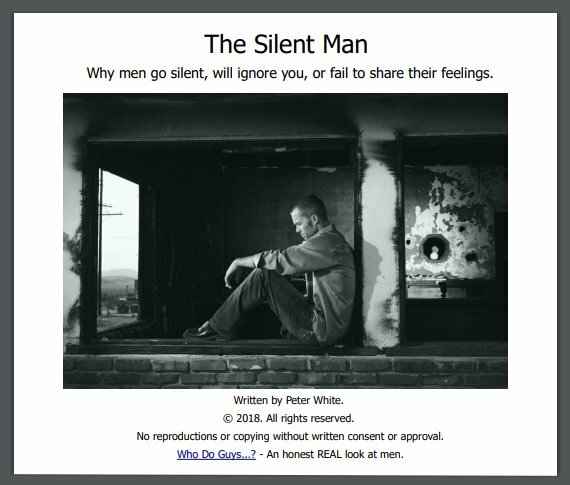 Your personal info is always safe and never sold to anyone at anytime. No spam is ever sent. Unsubscribe easily at any time you feel you don't need it anymore.